Hello guys,
Quick post here, showing off a beautiful clutch I have won! It was a recent giveaway from the
'Voguish'
blog.
I was so excited and happy to be the winner of this fabulous giveaway, since it's the first time I win one! As soon as I saw it, I knew this clutch was just so me... I love skulls!
The bag is also very versatile as it has a shoulder strap, so it can be worn as a shoulder bag as well as a clutch. Great colour as grey goes with everything and this gorgeous, glam, huge crystal encrusted skull is just FABULOUS!
I quite love to wear it as clutch, as I don't have many of them and this one is a lovely one to get me started.

I would like to send a special thanks to Ire, from the Voguish blog for this lovely gift, which is already much loved!
With slightly Gothic touches today, shredded tshirt and loads of skulls accessories, (someone even commented they were missing my heels and so was I, but I had walked so much the night before in heels that the soles of my feet could not bare thinking about it!) I am all relaxed in black and white and trainers again. Thank you very much!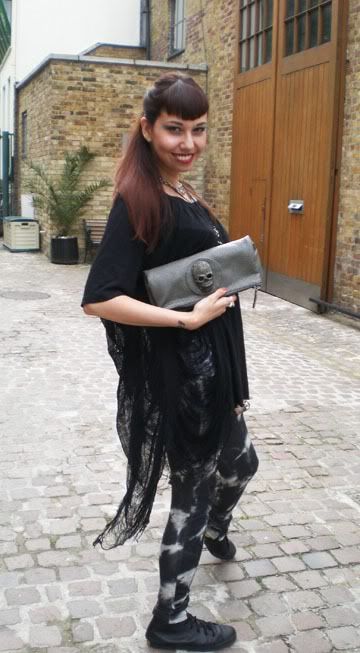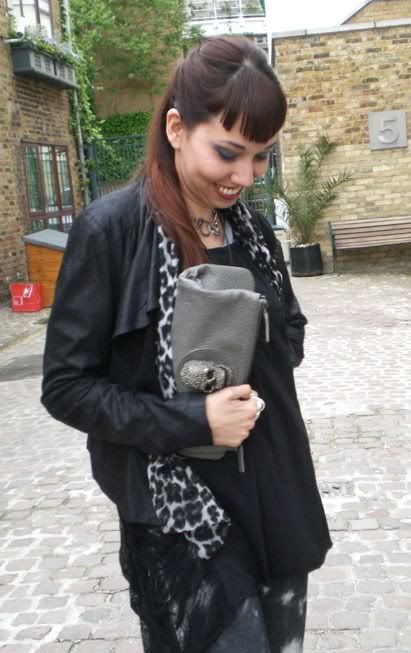 Shredded T shirt: Pretty Portobello Shop, Clutch: From the Voguish -giveaway, Leggings: Zara, scarf: Portobello Market, Leather jacket: from a friend.
I loved receiving a gift, so I am giving one too! Don't forget to enter my GIVEAWAY! Click here!

It's an international giveaway and it will end Saturday 5th June.
Good luck!
See you tomorrow with some new buys...
x